Saurav Ghosal (IND) had Mahesh Mangaonkar's number from the start, today. The tournament's No. 3 seed controlled play from the start, keeping the pace up and deploying shots with deadly accuracy to win 11-7, 11-3, 11-7 in 35 minutes.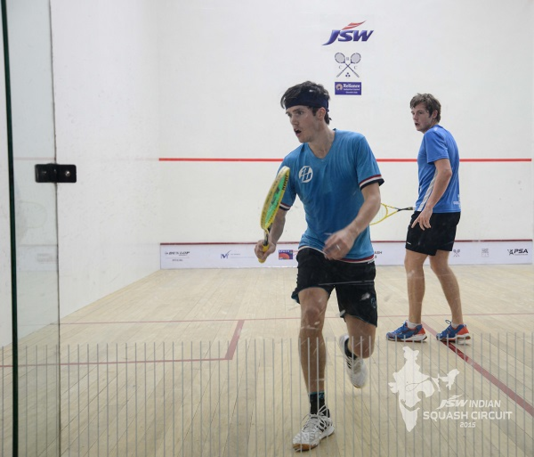 Above: Chris Simpson chases a ball v Greg Lobban; Photo credit: Nitesh Square
Simpson slides into semifinal

Today's match between Chris Simpson (ENG) and Greg Lobban (SCO) was a master class in basics. The players exchanged some long, lovely rallies, but Simpson staked his claim to the T early and was always in control, winning 11-2, 11-5, 12-10 in 51 minutes.
"I was quite surprised by how well i played in the first game especially," Simpson said. "I felt like I was the one controlling the pace. I always felt slightly ahead in the rallies, and that eventually wore him out toward the end. I'm very happy to be done in three."
"It was tough," Lobban said. "Chris dominated the court for the majority of the match. No matter how hard I tried, he found a way to stay in the middle. I ran out of gas quicker than I usually do because he was dominating the middle."
Above: Zahed Mohamed moments after his loss to Stephen Coppinger; Photo credit: Nitesh Square
Coppinger carries match against Mohamed

It was a long, tight match between Stephen Coppinger (RSA) and Zahed Mohamed (EGY), but after the first game, it was only ever going to go Coppinger's way. Mohamed had his best chance up in the first game, but lost two game balls before Coppinger took it 14-12. Mohamed racked up a quick lead in the second, 5-2, but couldn't keep it, and Coppinger ran away from there, taking the match 14-12, 11-5, 11-7 in 65 minutes.
"Any win is a good win at this stage," Coppinger said. "He beat me the last time we played, so I knew what to expect. He was really tough, right from the start all the way through. The first game was crucial. He had a few game balls. I was really lucky to come back in that one."
"The last time we played, I beat him 3-2. This time, of course, he wanted to win to have his revenge. So I was a bit nervous," Mohamed said. "I wanted to win again. The first game was very tough. I said to myself, 'This game is very important,' but I was unlucky. In the second, when I was up 5-2, I was not good mentally and started to play short. I didn't know how to get it back."