Saurav Ghosal (IND), playing on home turf at the Calcutta Racket Club, came to wintonight. The speedy Indian kept up a fast and furious pace that tired Stephen Coppinger (RSA) from the first serve. Ghosal played a beautifully error-free game, while Coppinger struggled with the tin. Coppinger, glued to the T throughout, seemed to wake up to his last chance in the third game and, taking two match points off Ghosal, seemed poised for a comeback. But he couldn't keep up the play and Ghosal took the match 11-4, 11-4, 11-3 in 45 minutes to enter the Kolkata International final.
"Saurav was just too good today," Coppinger said. "I just couldn't make any headway today. He was good and he was good for the whole match."
"I know Cops is playing really well," Ghosal said. "He hadn't dropped a game yet in this tournament. He was cutting every ball off and setting a high pace. So I had to be really precise and keep the ball off his racket as much as possible. Happily, for me, I executed the plan all right. The scores don't suggest how hard the match was."
Above: Stephen Coppinger sets up a mighty swing v Saurav Ghosal; Photo credit: Nitesh Square
Above: Saurav Ghosal and Stephen Coppinger shake hands after the match; Photo credit: Nitesh Square
Elshorbagy heads to Top 10 after beating Simpson
It was a hot evening as the Calcutta Racket Club filled with fans to watch the semifinal between top-seed Marwan Elshorbagy (EGY) and Chris Simpson (ENG). Whether the heat bothered Simpson, whose game was unusually dogged by errors throughout, is anyone's guess. But as the sun went down and the venue cooled, his play did not improve. Elshorbagy dominated the first two games, staying in front of the Englishman and sending the ball long and just out of reach time and again. Simpson's best chance came in the third game, when he stole two match points from Elshorbagy and went on to take the game through sheer grit and hustle. It wasn't until the fourth game that Simpson started to get in the shots he'd been waiting to play all evening. But it was too little too late, and Elshorbagy took the match 11-5, 11-6, 11-13, 11-6 in 55 minutes to enter the final of the Kolkata International.
"These days happen," Simpson said. "I ended up running around like a headless chicken. Marwan deserved to win because he was a better player today. The ball wasn't going where I told it to."
"Today was my best day so far," Elshorbagy said. "I was struggling a bit the days before. Today I knew I had to be 100 percent to beat Chris. The third game was tricky. I had two match balls and I was disappointed to lose it. But at the same time, I was really pleased with the way I came back. I'm going to be focused and do my recovery work to be fresh for tomorrow."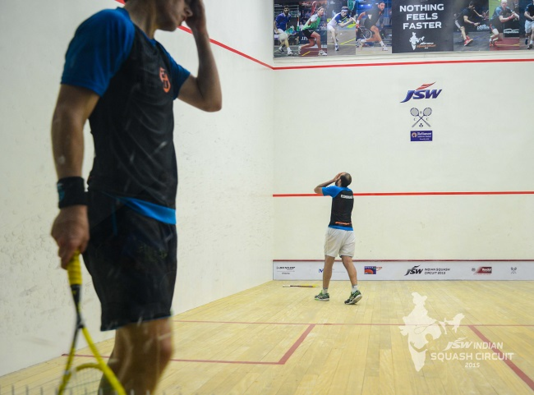 Above: Chris Simpson (f) and Marwan Elshorbagy react after match point; Photo credit: Nitesh Square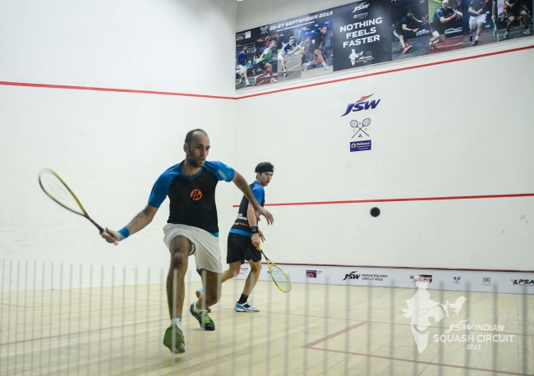 Above: Marwan Elshorbagy goes after the ball v Chris Simpson; Photo credit: Nitesh Square
Above: Chris Simpson lines up a shot v Marwan Elshorbagy; Photo credit: Nitesh Square